My name is Jordan Daley. I am a Provost's Pocdoctoral Fellow at New York University. I study Social Psychology. I am currently working alongside Dr. Emily Balcetis and her SPAM Lab group. My graduate school mentor was Dr. Galen V. Bodenhausen (Social Cognition Lab). I investigate the psychological processes that underlie social attitudes, perceptual biases, and intergroup relations. I made this website to help develop my research and professional network. I'd love to hear from you!
Coverage of me and my work
Vox reference
Our 2022 article was referenced in this 2022 Vox news article, where they discuss the link between perceiving China as responsible for the COVID-19 pandemic and perceiving Asian residents of the United States as "perpetual foreigners". The exact quotation reads: "In 2021, 11 percent of US adults said that Asian Americans were at least partly responsible for Covid-19 (a belief tied to the "perpetual foreigner" stereotype of Asian Americans). By 2022, that number had risen to 21 percent."
ODI Spotlight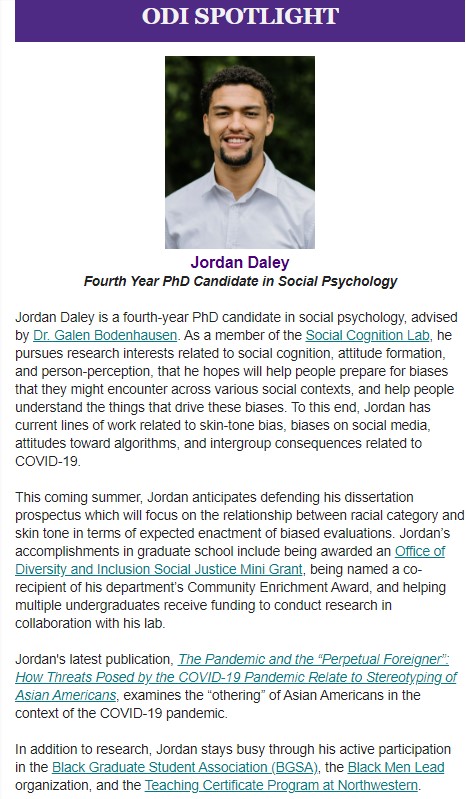 The Office of Diversity and Inclusion at Northwestern's graduate school recently did a highlight of my work.
Interviews
Interview on Mock Social Media Tool –
I recently spoke to Abby Hughes, a Journalism student at Toronto Metropolitan University, who produces a weekly news show called "The Final Word". We discussed my use of a developing Mock Social Media tool used to simulate social media environments for the purpose of experimental research. This tool is being developed by a PhD student also at Toronto Metropolitan University, named Arvin Jagayat. The tool is awesome! I am featured between minute 8:00 and 13:20 at the following link: The Final Word – A new way to study social media behavior.
Inclusion Solutions Webinar December 13, 2022 –
My colleague and I recently participated in the Grand Rapids (MI) Area Chamber of Commerce Inclusive Solutions Webinar series, where we discussed how our respective areas of research can inform organizational efforts toward diversity, equity, inclusion, and belonging. View the interview here!